*1953 in Paris, FR, lives in Karlsruhe, DE
Edward Snowden Studio
2015
At the initiative of Alice Cavoukdjian dite Galli, the exhibition GLOBAL CONTROL AND CENSORSHIP places a safe work and recreation room at the disposal of whistle-blower Edward Snowden for the duration of the exhibition. The ZKM has issued an official invitation to Snowden to use the room and continue his work. Before he would be able to come to Riga, Snowden would have to specify anti-surveillance measures and a communications setup with which he could be in contact with people and media all over the world. Until that happens, visitors can leave messages in the letterbox on his studio door, which will be sent to him unopened to Russia every week. The National Library of Latvia and its visitors are waiting for Edward Snowden.
Bernhard Serexhe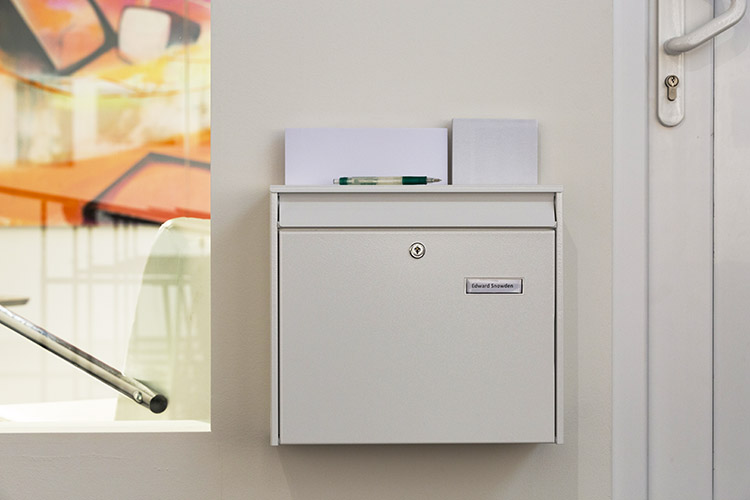 Alise Kavukdjana Ditgalī
1953, Parīze, FR, dzīvo Karlsrūē, DE
Edvarda Snoudena studija
2015
Pēc Alises Kavukdjanas Ditgalī iniciatīvas, uz izstādes GLOBĀLĀ KONTROLE UN CENZŪRA laiku tajā izveidota droša darba un atpūtas telpa, kas ir trauksmes cēlāja Edvarda Snoudena rīcībā. ZKM ir izsniedzis oficiālu uzaicinājumu Snoudenam izmantot šo telpu un turpināt iesākto darbu. Pirms viņš varētu ierasties Rīgā, Snoudenam būtu jānosaka pretnovērošanas pasākumi un sakaru uzstādījumi, ar kuru palīdzību viņš varētu sazināties ar cilvēkiem un medijiem visā pasaulē. Līdz tam apmeklētāji var atstāt ziņas pastkastītē pie viņa studijas durvīm, kas ik nedēļu neatvērtas tiks nosūtītas viņam uz Krieviju. Latvijas Nacionālā bibliotēka un tās apmeklētāji gaida Edvardu Snoudenu.
Bernhards Serekse