*1982, Beijing, CN, lives and works there
Twilight Is the Ashes of Dusk
2011, video, 3 min, 15 sec.
Beijing by night, Beijing awakening. A street sweeper, birds sitting on antennas. In the slow and tranquil images that Ma Qiusha filmed along Chang'an Avenue the ever-present surveillance is almost hidden. The spotlights that provide light for the cameras mounted beneath them seem almost prosaic, like the sunrise that announces the dawning of a new day.
Chang'an Avenue is the thoroughfare where military parades are held. It leads past Tiananmen Square and was the route taken by the protesters in 1989 who occupied the square until the demonstration was violently ended and around 2600 people died. Twilight Is the Ashes of Dusk shows us quiet images of an urban space under surveillance, whose own history is subject to censorship. Reports of these events on the Internet are suppressed; scores of civil rights activists who refuse to be silenced are persecuted by the Chinese state, and condemned to long terms of imprisonment. (Sebastian Althoff)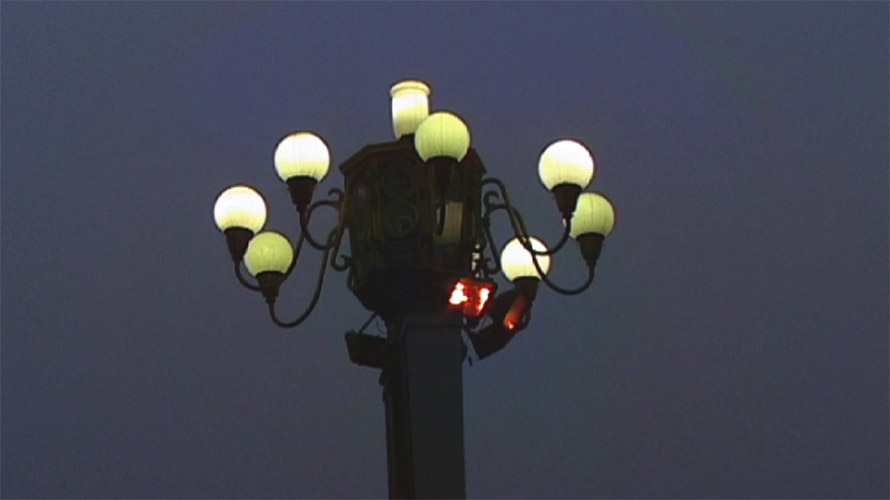 Ma Čuša
1982, Pekina, KN, dzīvo un strādā turpat
Mijkrēslis ir krēslas pelni
Video, 3 min 15 s
2011
Pekina naktī, Pekina mostoties. Sētnieks, putni, kas sēž uz antenām. Lēnajos un rāmajos attēlos, ko Ma Čuša filmējis Chang'an avēnijā, nepārtraukti klātesošā novērošana ir gandrīz nemanāma. Prožektori, kas nodrošina gaismu zem tiem uzstādītajām kamerām, šķiet gandrīz prozaiski, tāpat kā saullēkts, kas vēsta par jaunas dienas sākumu.
Chang'an avēnija ir galvenā iela, kurā notiek militārās parādes. Tā ved gar Tjanaņmeņas laukumu, un bija maršruts, kādu veica protestētāji 1989. gadā, kuri okupēja laukumu, līdz demonstrācija tika vardarbīgi izbeigta un ap 2600 cilvēku gāja bojā. "Mijkrēslis ir krēslas pelni" mums rāda attēlus ar mierīgu pilsētvidi, kas tiek novērota, un kuras pašas vēsture ir pakļauta cenzūrai. Ziņojumi par šiem notikumiem internetā tiek apspiesti; Ķīnas valsts vajā un piespriež ilgus cietumsodus daudziem cilvēktiesību aktīvistiem, kuri atsakās tikt apklusināti.
Sebastians Altofs