*1971 in Mardin, TR, lives and works in Istanbul, TR
WHO SHOT THE ARTIST?
2009 Video, 1 min 56 sec
In his video Who Shot the Artist? Halil Altındere walks towards a camera recording him talking about the Turkish contemporary art scene, to be precise about the complications of the transition from traditional to contemporary art in Turkey, in a market in Istanbul. Suddenly, a hand holding a gun appears and shoots the artist. The weapon is actually a paint gun. Despite being shot at repeatedly, the artist continues walking and talking until the end of the video. Although it is assumed people are used to seeing gunfire because of watching action movies, the passersby reacted very intensely to the scene. The work questions the artist's position in society and the control mechanisms related to it.
Altındere depicts himself in this self-portrait as a contemporary artist controlled and hindered by the society and art scene he is condemned to deal with. These mechanisms necessarily determine his artistic praxis, and appear as gunshots in the video.
Another event, which might have triggered this work is, that in 2007 the Armenian-born journalist and editor of the bilingual newspaper Agos Hrand Dinç, published in Istanbul, was shot dead in the streets of Istanbul.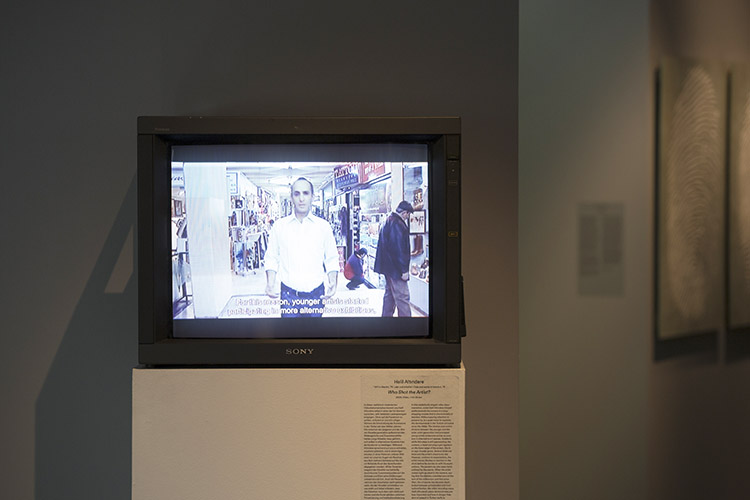 Halils Altindere
1971., Mardina, TR, dzīvo un strādā Stambulā, TR
Kurš sašāva mākslinieku?
2009, video, 1 min 56 s
Video darbā "Kurš sašāva mākslinieku?" Halils Altındere Stambulas tirgū nāk pretī kamerai, kura viņu filmē, stāstot par Turcijas laikmetīgās mākslas ainu, precīzāk, par sarežģījumiem pārejā no tradicionālās uz laikmetīgo mākslu. Pēkšņi parādās roka, kas tur ieroci, un sašauj mākslinieku. Ierocis patiesībā ir krāsas šaujamierocis. Par spīti atkārtotiem šāvieniem, mākslinieks turpina iet un runāt līdz video beigām. Lai gan tiek pieņemts, ka cilvēki ir pieraduši redzēt apšaudi, jo skatās asa sižeta filmas, garāmgājēji ļoti intensīvi reaģēja uz notiekošo. Darbs uzdod jautājumus par mākslinieka vietu sabiedrībā un ar to saistītiem kontroles mehānismiem.
Altindere šajā pašportretā attēlo sevi kā laikmetīgo mākslinieku, ko kavē un kontrolē sabiedrība, kā arī mākslas ainu, kurā viņš nolemts darboties. Šie mehānismi neizbēgami nosaka viņa māksliniecisko praksi un parādās kā šāvieni video.
Vēl viens notikums, kas, iespējams, kalpojis par ieganstu šim darbam, ir tas, ka 2007. gadā Stambulas ielās tika nošauts Armēnijā dzimušais un bilingvālā, Stambulā publicētā laikraksta Agos Hrand Dinç redaktors un žurnālists.